Networking within the lifETIME CDT
On Tuesday last week we held our first CDT lifETIME Networking Event in Birmingham welcoming a mix of partners and academics. This was a great opportunity to discuss how the CDT programme will work collaboratively with industry and academia to benefit student training and to start formulating the first lifETIME PhD projects.
Next networking event will be in Glasgow on the 4th March. Find the agenda for the day here.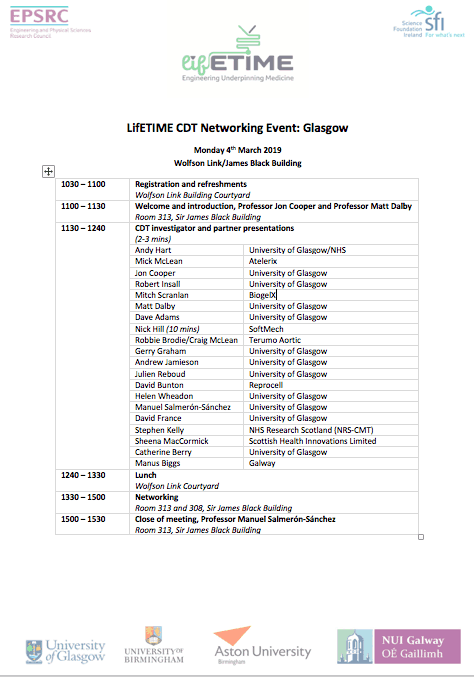 Networking within the lifETIME CDT
The lifETIME CDT has secured funding from EPSRC, SFI, Aston, Birmingham and Glasgow Universities, and from a variety of stakeholders to train 84 PhD students in the UK and Ireland. Our industrial partners come from large and small industry and have diverse skillsets from materials, to cells, to drug testing and toxicology. Our other partners represent charity, governance, funding and manufacture process in the NAT/ATMP sectors. The diversity and commitment of our stakeholder component is critical for the CDT success, working together to give our students the best possible training, having partners not only co-supervising students but involved with the running of the CDT as a whole. It's our plan to strengthen these interactions from the start through open space workshops, industry/student days, and via regular engagement.