Dragons Den Competition
By LifETIME CDT Student: Megan Boseley (Aston University)
As part of the CDT coronavirus online training the Dragons Den competition, including the 5 preliminary business and marketing sessions, were pushed forward and moved to zoom.
Initially, informative training with Peter Childs and Frank Rinaldi provided background on market awareness, IP, spin-outs and start-ups, forming a business model and pitching it. Following this we were divided into 3 groups, later to be known as teams SpectraDiagnostics, MeatMultiplied and Namatrix. I think I can speak for most of the groups when I say over 50% of the team meetings were generally spent brainstorming and agreeing on an idea (it is harder than it sounds!). Something novel, relevant, thought provoking, applicable, realistic, affordable, unique……… The list is never ending. To make it tougher, we live in a generation of constant scientific and medical advancements. IP generated from these new concepts thus make it hugely challenging to innovate beyond others with greater expertise.
For many of us, as our specific end products were way out of our comfort zones, it was essential to both read papers and perform market research to decipher if our ideas were feasible. Throughout this process, many of us became aware of our preferred role in the team, and through delegation where we would fit most effectively as: chief executive officer (CEO), chief financial officer (CFO), chief operating officer (COO), chief marketing officer (CMO) and chief scientific officer (CSO).
Roles and Business Plan
In regards to working individually from different locations, it was decided that each officer would take responsibility for different sections of the business plan. This, however effective for getting the detailed 20-page business proposal completed, did lead to discrepancies and potentially cause the plan to seem disjointed. This made communication between team members extremely important, especially in terms of the 5-10 year strategy, which encompassed all areas of the business plan. As a CFO, I particularly noticed how all decisions, as minor as they may have seemed could have significant effect on the companies outgoings, profits, turnover and so investment required by the dragons. Hence, the ability to actively share ideas, listen, acknowledge and deliberate were key to the success and feasibility of each company.
Speaking to some of my fellow CDT colleagues, they expressed what they had learnt from the experience: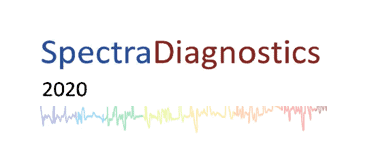 SpectraDiagnostics' Narina Bileckaja (CMO) – "I chose a chief marketing officer role as part of the competition, urging myself to put on my marketer's hat. After some research I discovered how important it is to assess the market you are about to enter as a new start-up company. The dragons den competition also made me realise the extent to which an accurate competitor evaluation can mean the difference between success and failure. This was imperative in the case of our product, which relied upon a collaboration with one of the medical device leaders, Samsung. Our device, in short, could be described as a portable spectrometer capable of detecting infectious microorganisms within fluid samples. The device used UV light to detect biochemical information and AI software to match the patient spectra to a positive diagnostic spectrum."

NaMatrix' Lydia Styliani Marinou (CFO) – "Dragon's Den was an interesting and fun, yet challenging experience. My role in our company was the Chief Finances Officer. I was responsible for creating financial forecasts regarding our predicted profit and loss. During this exercise, I had the opportunity to collaborate with four amazing fellow cohort students, create an idea and present it to our judges' panel. Gathering all the necessary information to balance the forecasts was the most challenging part of my responsibilities, as even a small change in the structure of the company or the manufacturing of the product had a considerable effect on my forecasts. Regardless, I really enjoyed being CFO for a while, it showed me how much has to be done before one can get to do science."
NaMatrix' Meenakshi Suku (CSO) – "Dragon's Den was a priceless experience for me! Being the CSO of NAMatrix, I got to decide the scientific plan of our company, which gave me a taste of what planning for a start-up might be like. NAMatrix, or Non-Animal Matrix proposed to develop a substitute of animal tissue-derived matrix, as a way to reduce animal use in research. In addition to making me explore literature and the scientific side of cell-derived matrices, Dragon's Den helped me understand the amount of financial, organisational and market planning required to set up and run a company. Even though the exercise was a bit out of our area of expertise, myself and my team thoroughly enjoyed working with each other and found the experience invaluable!"

MeatMultiplied Maria Laura Vieri (CEO) – "The main aim of our team was to work on something we truly cared about. We chose to support the clean meat market as we wanted to be part of something good for the planet, animals and therefore for all humankind. However, we lacked in knowledge and experience to successfully translate our passion into a company. I personally did not know where to start. Among all, I think one of the most interesting lessons of this competition has been the importance of communication skills. Your company's success also lays in your ability to highlight the product's unique value. The questions that need to be answered are "How does your product answer to the market's needs? And why should I choose YOU"? A bright idea may never develop if you are not a skillful seller."
Presentations
Following the completion of the business plan draft, it was then when we looked to our team academic mentors and industrial partners to proof read the proposal and help perfect the product. They did an amazing job at providing their time, expertise and a couple of tricks of the trade. I can say on behalf of most of the cohort that prior to their vote of confidence; our belief in our own products and abilities was shaky. It was just the boost we all needed to push on to perform enthusiastic, high-energy presentations, and absolutely smash the delivery of our ideas. To them we were all immensely grateful.
Competition
And finally, on 1st July we all took part in the wonderfully organised Dragons Den competition. It was both, might I say, an intense but also light-hearted event all rolled into one. The Dragons put on a fabulous performance to bring the television show to life, scrutinising our work when necessary and praising our concepts where appropriate. They truly took no prisoners! Personally, my favourite moments were those of disagreement between the dragons and the breakout rooms immediately following a presentation, where we could all let out a sigh of relief and have a little giggle at the craziness of it all. Whatever the feedback received however one thing was apparent, the undeniable enthusiasm for and effort that had been put into the creation of the product. For this none could be faulted.
Nonetheless, ultimately there was only to be one winner. MeatMultiplied! Theirs was, without doubt, an extremely well thought up, inventive and current product. Moreover, you could easily decipher from their pitch the passion and belief they all had in its potential, as a cost effective, applicable alternative microcarrier subtype for the scaled up production of clean meat. A deserving winner to a fantastic competition!
Below are a few tweets from the online Dragons Den competition.